Farming Village
Edit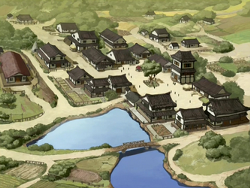 The Farming Village is a small settlement located in the western Earth Kingdom.
Description
Edit
The farming village is surrounded by vast crop fields and plains dotted with trees, bushes, and occasional lakes or ponds. Winding dirt roadways, commonly used by caravans and travelers for ease of transportation, snake through the farmland. Many of the pathways culminate at the village center, which is situated by a small body of water divided in two by a covered bridge. It has two support beams and is made entirely from wood, much like the rest of the village. The community's hub is bordered on all sides by low, wooden fencing.
The settlement's structures bear numerous stylistic differences to traditional Earth Kingdom architecture. While they do exhibit slanted roofs, overhangs, and temple design touches, they also have black tops, white sidings, and verandas, which give them a distinct flare. Most buildings have a single entrance on all sides and multiple windows on each story, some of which can be closed using wooden boards attached adjacently to the windows. All houses are centered around a wide avenue, and some of them have food supplies or miniature gardens in their yards.
Community content is available under
CC-BY-SA
unless otherwise noted.