Full Name:

Edit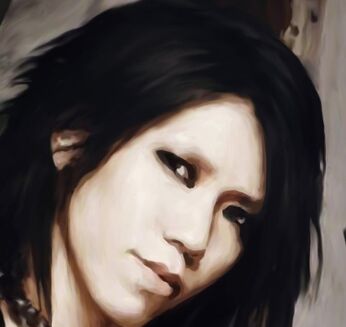 Jin Himura
Jin translates as 'Benevolence' in Japanese.
Himura translates as 'Scarlet Village' in Japanese.
Skype Username/Wiki Username:
Edit
jamesbaker287/TheMurderDoll
Title(s):
Edit
Avatar Jin (Future Title)
Nickname(s)
Edit
Sparky (Shen's nickname for him)
17
Date of Birth:
Edit
July 28th 745 BG
Nationality:
Edit
Imperial City
Fire Nation Lineage
Male
Orientation:
Edit
Heterosexual
Fire (Affinity Element)
Air (Not yet learnt)
Water (Not yet learnt)
Earth (Not yet learnt)
Bending Level:
Edit
Fire - Intermediate/Advanced
Jing Type:
Edit
Positive Jing
Occupation:
Edit
Gang Member
Pro-Bending Player
The Avatar (Undiscovered)
Religion:
Edit
Non-Worshipper
None (Present)
Alive
Alignment:
Edit
Chaotic Good
General Appearance:
Edit
As a street orphan, Jin has never bothered in terms of his appearance, and a possibly handsome face is usually hidden behind a mass of matted long black hair. He possesses a well built figure for his age, with toned muscles, the result of his engagement in much physical activity, such as his Pro-Bending matches and street fights he engages in often.
Hair Colour:
Edit
Ebony Black
Eye Colour:
Edit
Dark Grey
Skin Tone:
Edit
Sun-kissed
6'1
189 lbs
Well toned, muscled but not overly built.
Several across his body from Pro-Bending matches mostly.
An oriental dragon on his left bicep. Done via back alley bamboo stick and ink.
Piercings:
Edit
Several piercings in each ear, usually filled with small hoops.
Other Distinguishing Marks:
Edit
Glowing skin and eyes (Avatar state, undiscovered)
Ruki Himura (Whereabouts Unknown)
Rin Naoe (Deceased)
Brothers:
Edit
None
None
None
Daughters:
Edit
None
Shen Xin (Best friend, 16)
Undercity Dragons (Pro-Bending Team)
Undercity Dragons (Pro-Bending Team)
Rival Gangs
Rival Pro-Bending Teams
Imperial City Police (to an extent)
Overall Personality:
Edit
Jin is a somewhat complex person, given his often contrasting nature. While he possesses an underlying kindness and is loyal to his friends, he also carries a very aggressive way with him, often actively getting into fights and starting confrontations for the pure sake of it. This behaviour is to compensate for his need to feel alive and of value, considering his lonesome past and his feelings of self-worth and inadequacy. In relation to the abandonment he experienced from both parents, he carries a deep-seated rage within him, that fuels his firebending and particularly aggressive style, as well as an instinctive distrust in most people, only trusting Shen and a few select others.
Likes/Obssessions:
Edit
Likes:
Pork buns
Humour
Fire cakes
Pro-Bending
Attention
Obsessions:
Establishing his own worth
Feeding his anger regarding his past
Dislikes/Pet Peeves:
Edit
Dislikes:
Bean Sprouts
Tea
Authority
Wealthy people
The police
Pet Peeves:
Fears/Phobias:
Edit
Fears:
Humiliation
Failure
Rejection
Phobias:
Hobbies/Interests:
Edit
Hobbies:
Pro-Bending
Parkour/Freerunning
Martial Arts training
Gambling
Interests:
Martial Arts
Strategy (Though he seldom applies it)
Astrology
Physical Skills:
Edit
Strengths:
Above average strength
Quick on feet
Agile
Weaknesses:
Not the fastest reaction time
Often wastes stamina for powerful attacks
Intellectual Skills:
Edit
Strengths:
Streetwise
Good battle strategist
Weaknesses:
Academics (particularly history)
Short temper
Tends to act before thinking
Illogical reasoning at times
Fighting Style(s):
Edit
Northern Shaolin Kung Fu (Self-taught, Firebending)
Karate (Self-taught, All)
Miscellaneous Street Fighting Skills (Self-Taught, All)
Elements
None (yet)
Clothing Style:
Edit
Jin can often be found wearing generally loose fitting clothing, usually along the lines of worn tops, pants and faded boots. In both his fighting style and his Pro-Bending matches he prefers to be somewhat mobile rather than constricted. He is also noted for almost always wearing new sets of bandages, a result of his confrontational nature.
None (yet)
Background
Edit
Work In Progress
Theme Song:
Edit
Community content is available under
CC-BY-SA
unless otherwise noted.