Seaport Village
Edit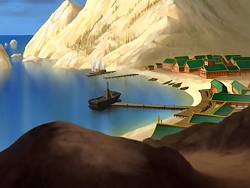 The Seaport Village is a small coastal settlement located in the western Earth Kingdom, and is an important port on the Mo Ce Sea.
Description
Edit
The seaport village is surrounded by tall, barren mountains on three sides and the Mo Ce Sea on the other. The village's harbor is U-shaped and has three wooden piers that jut into it. Only one of the piers can dock large ships; the other two to its right are far smaller, limiting their docking capacity to only small ships. A thin strip of beach separates the village from the harbor. Some sailors and natives leave their boats here instead of the piers as they enter the village. A boardwalk on the beach connects to one of the piers, allowing its enhanced ease of access.
The village is divided into two halves by a wide, straight avenue. On either side of the avenue are low-rise buildings made of wood. They have green rooftops that are bordered by thin yellow outlines. The rooftops are triangular and have no shingles. Some of the buildings are houses, while the others are market stands. The village's marketplace is quite lively and bustling with commerce.
Community content is available under
CC-BY-SA
unless otherwise noted.